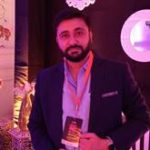 Maulik Rathod epitomized the dauntless entrepreneurial spirit of a visionary always on the march to change the destiny of his own. He is dynamic, pioneering and innovative genius, Maulik is an inspiring leader with sterling qualities. His success story fired the imagination of a generation of Indian entrepreneurs & progressive business leader and progressive.
Maulik Rathod unique vision redefined the potential of the Indian business sector and he challenged conventional wisdom in several areas. He follows philosophy short, simple and succinct: "Think big. Think differently. Think fast. Think ahead. Aim for the best."
 Maulik set a number of revolutionary precedents. He has established organization name Mascot Event, Mascot Event Founded in the year 2002  Event Management Services. Mascot Means A highly privilege person or the word or thing which symbol or which brands the company or event. We believe in true workman ship and in quality work, our slogan is also "We Create Memorable Experiences with Hassle Free  Happiness Whenever Where Ever at Your Service Forever".